Meet the Crew
Matt Proto and Colleen Korona are Atmospheres Professional Yacht Services. They have been chartering as a team together in the Virgin Islands for the last three years and have fine-tuned their game to bring you the best in yacht service. Atmospheres is currently operating onboard the sailing vessel Nadiya. She is a 47-foot Leopard Catamaran and is loaded with all the amenities needed to make the most of your vacation.
Matt's Story
Matt has been in the customer-service industry for the past 25 years. His career as a professional chef has lead him to the Caribbean where he now uses his culinary skills to create the perfect onboard dining experience for guests. He draws from a wide range of experience to deliver a broad spectrum of flavors and genres, keeping each new day full of fresh ideas. Matt grew up in Florida and has spent most of his life either in or on the water, and he's been an avid scuba diver since 2006. In 2012, he got rid of everything except for one suitcase full of clothes and started doing seasonal work as a traveling chef. After living in Hawaii, Alaska and Cozumel, he found himself in St. Thomas working in a food truck on the beach when a friend approached him with a job offer as a chef on a charter boat. This is where he met Colleen and discovered the perfect gig. Since then, Matt has combined his love  of food with his love of the ocean to create the Atmospheres brand. Atmospheres is more than just a vacation experience—it's a passion for life and nature, and the desire to share those things with like-minded individuals. 
CREDENTIALS: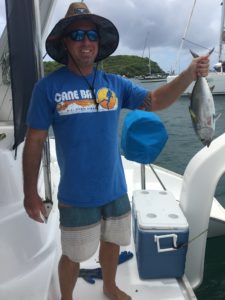 Professional Chef
PADI Open Water Scuba Instructor
Emergency First Responder Instructor
USCG 100 Ton Masters License
BVI Boatmasters Level 2
STCW 95
Aux Sail Endorsement
Vessel Security Officer Endorsement
Assisted Tow Endorsement
Atmospheres LLC, Owner/Operator
Colleen's Story
Colleen was born and raised in Florida, where she grew up playing on the water. She bought her first sailboat when she was 24 years old, decided to live on it and then sailed it to the Bahamas. Colleen stepped out of the boating world for a while and managed a mental health office with 10 doctors for several years before moving on to working at a nuclear brain-imaging facility. Then the recession came and she was unemployed.  It didn't take much prodding to head back out on the ocean and do some more sailing. She literally sold almost everything, packed the rest up and spent the next year sailing the East coast and exploring the cruising grounds from Florida to Rhode Island. There happened to be a group of boats heading to the Caribbean in Virginia and she thought, "What the heck! Let's check it out and head to the Caribbean!" 14 days later they arrived in Tortola, BVI. She spent another year playing, exploring and sailing down to Trinidad, and then the money ran out. Colleen started to pick up  jobs on charter boats here and there to have some money in her pocket. Over the next few years, Colleen worked as a first mate on a tall ship and sailing day-charter boats, as well as a stewardess and deckhand on a trimaran and crew on mega yachts in New England. But nothing beats working in the Caribbean! Colleen then got her captain's license, and now feels very fortunate to have a great office at sea where she can share the beautiful place with guests.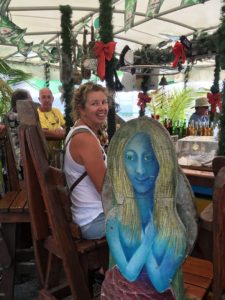 CREDENTIALS:
USCG 100 Ton Masters License
Aux Sail Endorsement
STCW95
BVI Boatmaster Level 2
PADI Advanced Open Water
Logged Over 30,000 Nautical Miles
Delivery Captain